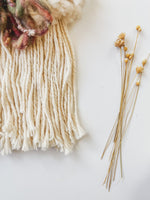 Handcrafted woven art with natural fibers for the modern home.
Nature and textures inspire me to create unique fiber pieces. I strive to use limited stock hand dyed and and hanspun fibers from talented artisans. Because of this each piece truly is one of a kind and cannot be exactly replicated.
What customers are saying...
I'm absolutely IN LOVE with the piece I purchased from Jess @Vevstol.

I've been looking at her work on Instagram for a while and it's all so beautiful, but I was completely blown away when my piece actually arrived. It was far more then I expected. The quality and craftsmanship is expert, & you can tell it was made with love.

Every time I walk past it hanging I have to touch it... the materials feel like a dream. The variety in texture & colors are stunning, it makes me smile every time. I definitely recommend these pieces if you're in the market for handcrafted decor. I'll definitely be supporting this artist again in the future.

100% happy with my purchase

Annie-January 2021
How can one little thing hold so much specialness?

I ordered this weaving to add to my Christmas tree decorations. It went so well with my felt ball and handmade paper garlands! Now that the holiday season is over, it fits so well with my other decor. Currently, it hangs above a print with similar colors (soft purples with bright yellows).

The weaving came in a well padded package directly from the vendor via USPS - and with a personalized note (I love how Vevstol call the weavings "she"s!) and a Vevstol tag. The note mentioned "She" may need to be fluffed up a bit and I appreciated the permission to play with how I'd like the fibers to lay.

Sirkel II is one of those things I'll be keeping my whole life, hoping for house guests to ask for the story about it.




KP Kaszubowski- Januaray 2021
I knew I would love the the colors when I got this piece but had no idea how beautifully presented it would come and how rich it is in real life. I get many compliments on it and I could not be happier with my choice. Obviously there is a caring professional who values their work and the customer. One of the best hand created artisan shops I have discovered.

Did I mention how beautiful the wrapping was?! Made me feel like it was chosen for me.

Kathy -December 2020
Wow! I was blown away by the craftsmanship and quality of this wall hanging. The color combinations work perfectly in my daughters' room. I am so happy with my purchase and will definitely be buying again.

Sara - December 2020
The colors in this beautiful wall hanging called my name and I'm so happy I pressed buy immediately! I love this little piece and the quality is absolutely incredible. I received clear instructions and multiple suggestions on how to mount it on my wall. Jess, the artist, also provided mounting materials for one of the options.

Daniella - December 2020
Lovely addition to our Christmas tree this year. Great size, love the textures and color!

Cecily - December 2020
Enjoy your creative process.
Creativity shows up in a unique way for each person. Join in the conversation on Instagram for a peek into my creative process and get tips on how to carve out time to explore your own creativity. 
Join the conversation on Instagram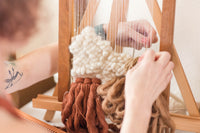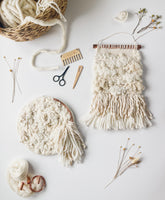 Vevstol loosely translated from Norwegian to English means loom (vev) and chair (stol). The simplicty of making unique pieces with just a chair, loom and some fibers is beautiful to me.